October 2007

Dear Dotsie,

"If opportunity doesn't knock, build a door." ---Milton Berle


---


Greetings,

According to Milton Bearle, I had to build a door. Opportunity was not knocking as I rounded the years of being a stay-at-home mom and burying my mom. I had to be intentional about what I wanted to be when I grew up.

October 31st marks the fifth anniversary of Boomer Women Speak.com. My intention was to launch a site to connect, encourage and support boomer women and to give my generation of women a voice. I stepped out in faith not knowing what to expect. I simply felt called and passionate about my new mission in life. Due to the success of BWS, I launched the National Association of Baby Boomer Women to be more intentional about educating and empowering this remarkable generation of women pioneers. By the grace of God, I have become the "go-to" person for journalists seeking information about boomer women.

The combination of the sister sites is often confusing, so let me explain. At BWS we share our voices in the Virtual Girl's Night Out section where women post 24/7. We also accept advertising at BWS and share links to books, resources, and stories, among other little surprises tucked within the site. It is the number one site on major search engines for "baby boomer women." Just because you receive this newsletter, it does not mean you are a member of the NABBW. The association offers so much more.

NABBW is our association. Women pay $75.00 to join and remain up to date with cutting edge information about our generation of women through our Weekly Updates, Teleconferences, Articles, Networking Opportunities galore, Discounts, plus so much more. Read our testimonials. Please see our list of Member Benefits. NABBW is now the number one site on Yahoo for "baby boomer women" with BWS in second place.

Founding a virtual business with a home office and women working from other locations is often confusing to some people who may not be tech savvy. I am often asked, "What do you do all day?" I respond with a huge grin and a patter in my heart, "I get to correspond with boomer women online and by phone, day in and day out." Life doesn't get any better than that.

My mission is to help boomer women live life with passion and to create their best second half of life possible. How can I help you pursue your dreams?

Onward with grace,
Dotsie
dots@nabbw.com

---
Latest Media Buzz!


What's the latest media news with the National Association of Baby Boomer Women and Boomer Women Speak?

To read all about it, click HERE!



---
Boomer Women Speak
Testimonial!


I just wanted to take this moment to thank you personally for a great call. Even though I have been self-employed for many years, and worked from home, I still learned a couple of great tips on your teleseminar! Dotsie, it is wonderful to get a response that is not an auto responder from a membership-based organization. I do believe it makes a world of difference.

Nellie Moore
www.wysewomen.com.
Licensed and Certified Wellness Inventory (copyright) Coach


~~~~~~~~~~~

We are happy to announce that when searching "baby boomer women" online, www.BoomerWomenSpeak. com is ranked first on Google, and www.nabbw.com is ranked first on Yahoo. Why not advertise with us? Email me at advertising@boomerwomenspeak.com for advertising rates.
---
BOOMER WOMEN FORUM NEWS FOR OCTOBER:

I continue to witness women encouraging women in our Virtual Village every day at Boomer Women Speak Forums. Won't you join us? Here's a peek at some of the things we're chatting about:

What Keeps You Up at Night? at this link: What Keeps You Up at Night?
Slang of Our Youth at this link: Slang of Our Youth
Grieving the Loss of Family, Marriage at this link: Grieving the Loss of Family, Marriage


Coming in November!

Award-winning author of the HowToDoItFrugally series of books for authors, Carolyn Howard-Johnson will be the Featured Author of the Month in the Boomer Women Speak Forums. Watch the forum for details!





---
The National Association of Baby Boomer Women is the only association devoted to addressing issues concerning 38 million of the healthiest, wealthiest, and best educated generation of women to ever hit midlife, baby boomer women.

NABBW promises:
A membership package that includes information on self-improvement skills, free legal and financial advice using e-mail, exclusive member discounts on a variety of products and services, easy ways to connect with other boomer women, and MORE..


A sense of belonging to a creative, powerful, encouraging group of women that will leave you feeling refreshed, revived, and renewed.


Access to information from an enthusiastic, energetic, wise, and warm panel of experts who have written books, founded Web sites, and coached women on all topics concerning midlife women.
---


Nov 9-11 at West Baden Springs, French Lick IN Contemplating new career, facing an empty nest, considering a relationship change, seeking PMZ (post menopausal zest) or any other change? This weekend is for you.
***CLICK ABOVE for ADVERTISEMENT***
---
***CLICK ABOVE for ADVERTISEMENT***
---

The Boomer Women Resource Center is continuing to expand it's resources and as always, we are committed to addressing all of your baby boomer needs. We hope you'll use these comprehensive and growing resources as your learning and educational center and guide. Don't forget, send me any topics you would like us to address or notify me if you are an expert on anything pertaining to boomer women that might be an excellent addition to the cybrary. SHOP NOW!
---
ADDED BENEFITS - Offers!
~~~~~~~~~~~

Life and career coach, Elizabeth Cassidy, www.BranchingOutLifeCoaching.com is offering NABBW members a 20% off their first month of coaching when they sign up for a 3- month coaching commitment. Visit the NABBW MEMBER ONLY section for the details about this offer. You'll also be able to call for quick coaching sessions, or can email Elizabeth with questions or concerns in-between regular coaching sessions.


~~~~~~~~~~~

We have created a user-friendly version of benefits on the Members Only page at www.nabbw.com. To log in, just enter your email address and your password. Email me at dots@boomerwomenspeak.com if you've forgotten your password.
---
Boomer Women Speak Book Club
- For Baby Boomer Women Everywhere!!

The Boomer Women Book Club continues to thrive and new members join in the fun everyday. Keep reading for more information on the latest book discussion and to find out how to join!

Buy this book!


FOR ONE MORE DAY, by popular author Mitch Abroms, The Five People You Meet in Heaven, and Tuesdays with Morrie.

Here's just a hint about this wonderful book. The main character, Charlie has been drunk so often and disappointed his daughter so many times that she doesn't invite him to her wedding. He even fails at his suicide. Or does he? When his deceased mother returns to love him unconditionally for one more day, he's not quite sure what's going on.

You really don't want to miss this one!

Any boomer woman wishing to join can do so by simply by visiting www.boomerwomenspeak.com and entering the forum community. It's that easy, and you can view many thousands of posts sharing what's on the hearts and minds of boomer women while you're there.

Already a member of the forum community? Then to join in and go directly to the Boomer Women Book Club or, to read all the comments this far, click BOOK CLUB.

---
FEATURED MEMBER

Sue Coffin
www.aheadofyourtime.net


Boomers continue to bury beloved members of the Greatest Generation. In doing so, we are awakened to the necessity and possibility of planning our own funerals. We find our selves asking:

Do I really need to plan my funeral?
Can I buy my monument before I die?
What will my children have to pay for?

Rather than asking these and other questions, most people avoid them, but avoiding these questions will not make them go away.

Sue and Dick Coffin (yes, their real names) work with death on a daily basis as owners of a monument shop. This exposure makes them ask, "Why don't people take care of these matters when they can, and not leave it to grieving family and friends?"

After realizing that it is not so much death that people are all afraid of, it is not knowing how to plan for it. To help the 70% of people in the US who don't plan for end-of-life, they wrote Ahead of Your Time: A Complete Guide for End-of-Life Planning (www.aheadofyourtime.net).

The book shares advice on the five steps that need addressing: Financial, Legal, Funeral, Cemetery, and Monument. The Coffins share that the first steps include: comparing funeral homes, legal and financial counselors, and monument providers. Gather brochures, make visits, and compare services, goods, and costs. Meet with professionals in every aspect of your planning. Ask questions. Evaluate your budget and funding options. Select merchandise,legal options, investment plans, and service.

Document your plans and share them with family so that your wishes are known.

They hope you will find that planning gives peace of mind to loved ones left behind. Visit them at www.aheadofyourtime.net.

---
BOOMER WOMEN SPEAK OCTOBER-NOVEMBER WRITING CONTEST.
Your Favorite Thanksgiving Memory



Ah, remember the smells of Thanksgiving? Those pumpkin pies baking in the oven, the turkey and dressing, the DESSERTS! Or maybe your favorite memory isn't food at all. Does it include lively "after dinner" conversations and stories that seem to take on a life of their own? Do they seem to grow with each passing year? Let yourself wander back to the tradition of family dinners and tall tales. Give us your favorite Thanksgiving memory. Paint us a picture with words that will have our mouths watering and hearts full of family, friends, and fun. Send us your story by entering our contest and win prizes!

Deadline: November 30, 2007
Entry Fee: none
Prizes include:

$50.00 cash and New Membership or Renewal to NABBW!


Defying Gravity: A Celebration of Late Blooming Women, by Prill Boyle
What Happens Next? by Chloe JonPaul
Boom: Marketing to the Ultimate Power Consumer - The Baby Boomer Woman, by Mary Brown and Carol Orsborn, Ph.D.


Share your story with us and win prizes! For guidelines visit us at BOOMER WOMEN SPEAK

********
Winner of the AUGUST- SEPTEMBER Boomer Women Speak Writing Contest was Mary Anne Hahn with her essay, My Butterfly Year. To read Mary Anne's story, click HERE!


---

NABBW OCTOBER TELESEMINAR --

C. Hope Clark
FundsforWriters: The Fact and the Fiction of Grants for Writers

Tuesday, October 23, 2007
7:00 PM EST

C. Hope Clark, Founder and Editor of Funds for Writers will be offering a one hour teleseminar on grants for writers. Here are just a few of the things you will learn on this call:


Learn about arts commissions and the many reasons they are a friend for your writing career


Find scholarships for conferences


Discover places that want you to get away and write


Schools are grant meccas. Learn why


Find out how nonprofits can be your friend in finding a grant


What are the secrets to winning a grant?
Make plans to listen in on this all inclusive teleseminar. You really don't want to miss this one. We hope you'll join us!


---
NABBW SEPTEMBER TELESEMINAR

Working From Home - Everything You Always Wanted to Know

www.nabbw.com
www.thekalitagroup.com
www.queenjawjaw.com

Dotsie Bregel, along with Jennifer Kalita, President of The Kalita Group, and Author of "The Home Office Parent: How to Raise Kids & Profits Under One Roof", and Georgia Richardson, NABBW Humorist and Virtual Assistant, hosted this teleseminar for the NABBW members.



If you are unable to attend any of our seminars, or if you prefer to hear them at your leisure, then visit the NABBW and sign in on our Member Benefits page which provides links to all our past teleseminars. As an added benefit for our members, you can now choose to listen to these teleseminars, or to open the PDF version and read the entire Teleseminar.

These are great to listen to while you are working or playing online. Just another benefit of NABBW!
---
BOOMER BOOK REVIEWS
We are happy to review member's books, products and services. This is a service that is FREE of CHARGE to NABBW members. Please email us if you are interested in seeing a review of your book, product, or service.

NOTE: Once your book has been submitted, please allow ample time for the book to be read and reviewed. Books and products sent for reviews will not be returned.



********

What's Living All About (CD only)
Alicia Bay Laurel
www.aliciabaylaurel.com

Reviewed by by Melinda Cianos

Buy this CD!

What's Living All About is a rather eclectic mix of sounds encompassing bluegrass, jazz and blues. Alicia Bay Laurel's artistic, wildly creative, and often controversial lyrics are definitely intriguing. This is generally an easy-listening collection of musical pieces, all sung by Laurel; her voice sounding sultry and at times, moody. Track lengths range from a short couple minutes to seven minutes.

The collection is unique, interesting and thoughtful. The featured instrumentalists are especially noteworthy. There are several talented musicians playing jazz piano, guitar, saxophone and percussion. They come together for a smooth and very "cool" sound.


---

Creating Magic In Midlife
Karla Freeman, MSW, LCSW
www.CreatingMagicinMidlife.com

Reviewed by by Melinda Cianos

Buy this book!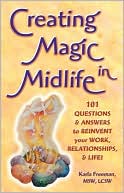 Karla has a powerful message to impart to those of us willing to listen. Her words serve to open one's heart, mind and spirit to the "magic" that waits to be integrated into our lives. What is that magic lurking and why does it often evade us - in some cases for our entire lives? Quite simply, it is not "lurking," it is screaming at us, waving its hands, proclaiming, "here I am." We just choose not to see it.

Freeman, a licensed clinical social worker, uses quieting and calming words about simplicity and synchronicity and wonder. In a question and answer format, she compiles direct, forward-thinking advice for grasping the opportunities presented to us at every turn and alerts the reader about how to make the most of them. One may feel revved-up and relaxed, simultaneously. Take a deep breath. Midlife is the ideal time to refresh, renew and restore.

This is a nice addition to any boomer woman's library. The author fuses common sense, spirituality, the tried and true and the new and improved. I adored her style. She presented a wealth of information that is comprehensive but not overwhelming in terms that everyone can understand. The reader comes away listening a little more and thinking a little less, realizing that living well is not so hard after all.

I should tell you more, but Magic is knocking and I must go let it in.


---

Don't Sleep with a Bubba, Unless Your Eggs are in Wheelchairs
www.susanreinhardt.com
By Susan Reinhardt

Reviewed by Georgia Richardson, www.queenjawjaw.com

Buy this Book



Get ready-get set-laugh!

Warning! When reading Susan Reinhardt's latest book, "Don't Sleep with a Bubba, Unless Your Eggs are in Wheelchairs," do NOT drink any liquids or operate heavy machinery.

Syndicated columnist Susan Reinhardt gives everyone a peak--more like a front row seat--into her personal life and let me say laughingly, nothing is sacred. Her observations and antidotes will have you doubled over in one chapter, and then tearing up in the next as she goes from domestic diva and blissful wife (tongue-in-cheek) to the depths of depression and her struggles to come out and live again. I found Susan to be amazingly funny, amazingly honest, and . . . amazing.

She's surely an inspiration for boomer women who ride the midlife emotional roller coaster.

---
MEMBER COLUMNS
Give Me (& You) A Break!
By Barbara E. Friesner
It's Thursday and I'm taking today and tomorrow off to give myself a long weekend mini-vacation. I need the time off. In fact, I'm desperate for it! I've earned it, I deserve it, I need it! Yet I'm wracked with guilt. Not because I'm not working. No, the main reason I'm wracked with guilt is because going away means I won't be visiting my mother this weekend.

Continue reading at this link: More from Barbara



Pat Yourself on the Back
By Karen Baar


A couple of weeks ago, I heard an interview with author Philip Roth on NPR; he was discussing his latest book. I was struck when he said "Central to aging is the experience of loss--a central experience in aging is that things disappear from life."

He's right, of course. Though we're not yet old, midlife already brings its share of losses - the deaths of parents, fading beauty, friends with serious illness, the empty nest -and so on.

Continue reading at this link: More from Karen


How To Get Ahead In The World Of Publishing
By Sheri McConnell


I love networking with potential customers, organizations, and yes, even vendors. It is fun to share what you learn with others and you never know where your next customer is coming from. Here are some of my favorite business/publishing techniques I have learned so far--use them and you will "get ahead" too!

Continue reading at this link: More from Sheri



Parents Have Been Asking
By Natalie Caine



Parents have been emailing and calling me about going to their children's first family weekend. Family weekend is when the parents visit their children and college campus to see what life is like now that they are settling into their new routine and life away from home. Truth is, some aren't settled yet and that is normal. Parents aren't settled either. Siblings and grandparents are getting new footing. Change brings surprises in these new roles. So I thought these stories would be fun.

Continue reading at this link: More from Natalie


The Deathbed Test
By Prill Boyle




You wouldn't know it from reading People magazine, but the value of your life probably won't end up being measured by how much money you made or how well-known you were. A few generations down the road, it's likely no one will remember what you accomplished. (If you don't believe me, ask a group of junior high school students who Paul Newman is.)

Continue reading at this link: More from Prill




Handling Job Stress -- The Three A's
By Karen Stephen


What is Job Stress? Having a stressful job and experience job stress are two entirely separate things. A job which is stressful may mean that it is high intensity (such as an air traffic controller), that critical decisions have to be made (like a caseworker for social services), that long hours are involved (the 24-hour shifts of firefighters), or that quotas are set for output (a worker on a factory production line). But a well-trained worker, supported and praised by her superiors, and especially one who has a say in her own working conditions, may thoroughly enjoy her job and never feel that she is suffering from job stress.

Continue reading at this link: More from Karen


I've Been Thinking . . .
By Georgia Richardson, Queen Jaw Jaw


Daddy didn't care for TV. He used to call it the Boob Tube. Never did figure that one out. This week I found a little extra time to take in some BT and afterwards, I started thinking. I know, I know, you're saying to yourself, this is uncharted territory for da Queen, but I'm here to tell you, I do give life a thought or two every now and then; seriously. Why I've been known to contemplate the different meanings of life for five or ten minutes and I don't like to brag, but sometimes, this is all in one sitting!

Continue reading at this link: More from Georgia


The Whole Person
By Nan S. Russell


Henry Ford is reported to have quipped, "Why is it that I always get the whole person when what I really want is a pair of hands?" The 21st century version doesn't sound quite like that, but its essence prevails in plenty of workplaces.

Continue reading at this link: More from Nan





Extreme Makeover
By Donna Shepherd


Therefore, if anyone is in Christ, he is a new creation; the old has gone, the new has come! - 2 Corinthians 5:17 niv

People today are pre-occupied with their bodies. It seems every magazine for women I see has at least one article promising a total makeover. "If you'll follow these ten steps, you can change your body!"

Continue reading at this link: More from Donna


What If Your Relationship Could Be---
By Judith Sherven, Ph.D. & James Sniechowski, Ph.D.


Imagine the richest relationship you could ever have. What would that be like? Envision a relationship in which conflicts, even fighting, don't drive you apart but deepen the connection between you. Picture the sheer joy of discovering a love that thrives on the ordinary experiences of everyday life and is more passionate and spiritually satisfying than your most lavish fantasy. Trust you can keep romance alive no matter how long you are together!

Continue reading at this link: More from Judith



10 Quotes to Live By
By Jan Cullinane


Looking for a few good words? Here are some quotes that deliver some excellent advice in just a few words:

"Don't simply retire from something; have something to retire to." - Harry Emerson Fosdick

"Do one thing every day that scares you." - Eleanor Roosevelt

"Twenty years from now you will be more disappointed by the things that you didn't do than the ones you did do. So throw off the bowlines. Sail away from the safe harbor. Catch the trade winds in your sails. Explore. Dream. Discover" - Mark Twain

Continue reading at this link: More from Jan


What's Hot Across the Pond?
By Carol Sorgen


Stroll through the many home interior shops in Europe and one thing will become readily apparent. Eclecticism is the design trend of the day. "There is really no 'look' in Europe," says Olivier Cardon, CEO, Roche-Bobois US. "Just the opposite."

Visit a European home and you may see a contemporary sofa, for example, paired with the bergere your friend inherited from her grandmother or a lamp picked up at a weekend flea market.

Continue reading at this link: More from Carol


The Greatest Love of All
By Janice Taylor


Self-love and weight loss go hand-in-hand, or thigh-to- thigh, if you will.


I know how it feels not to like myself and to lead a life of compromise. It's a big, fat drag. And now I know how it feels to like - even love myself. I promise you, it's a whole lot better and there's no pastry, chocolate bar, or basket of bread that's worth it putting self-love on the back-burner.

Continue reading at this link: More from Janice





---

MEMBER NEWS

Lorraine Keller
Lorraine@lifequalitytechnologies.com
Coming soon: relief for hot flashes. Life Quality Technologies, LLC is developing a discreet, wearable product to cool you instantly when a hot flash begins. Help us understand your needs by taking our brief survey.

Eli Davidson
www.elidavidson.com
Ms. Davidson filmed the national TV show DECISION HOUSE (produced by Dr. Phil's son). Eli shared the 'Turnaround Techniques' (trademark) from her book Funky to Fabulous for a troubled married couple deciding if they would stay married or not. American Airlines, United Airlines, Delta Airlines and Northwest Airlines are featuring Eli Davidson on AMERICA'S TOP COACHES. Eli joined 6 authors featured in THE SECRET in a new film THE OPUS.

Allison Bottke
www.allisonbottke.com
In conjunction with the release of Allison Bottke's second novel, One Little Secret, you are invited to pick the Dream Team Cast you think would best portray these larger than life characters who hail from Beverly Hills, Malibu, and Hollywood. Cast your vote for the film version of One Little Secret in the Hollywood Casting Call Contest where a lucky winner can win an all expense paid trip to Hollywood!

Saundra Goodman
www.gotteethguide.com
"Got Teeth? A Survivor's Guide" is a comprehensive look at oral hygiene, care of teeth, loss of teeth, dentures, and just about anything the layperson would want to know about the mouth/body connection and overall well-being. The book will answer just about any question you have on the subject of teeth. To learn more, visit the link above, or her blog at www.gotteeth.blogspot.com

Patricia M Terrell
www.pmterrell.com
Songbirds are Free, her ninth book and her first historical fiction, was inspired by the true story of Terrell's ancestor, Mary Neely, who was captured by Shawnee warriors in 1780 and held captive for two years before she escaped. The launch party was held on September 20 in Lumberton, NC, to a standing- room-only audience and she just completed her fall book tour in Nashville, Tennessee; where Mary was captured. For more information, visit www.maryneely.com

Carolyn Howard-Johnson
www.howtodoitfrugally.com
Carolyn received the American Business Women's Association's (ABWA), Outstanding Woman Award Sept. 8. Howard-Johnson writes the HowToDoItFrugally Series of books to help writers with their careers.

Jan Cullinane
www.thenewretirement.net filmed videos for both forbes.com and smartmoney.com in their NY studios, was interviewed by Chuck Jaffe on WBIX (Boston), conducted seminars for LiveSouth in Reston, Virginia, and will do a talk for the Smithsonian on October 3rd. She will also present at the Vero Beach Book Festival in Vero Beach, and will be a keynote speaker and conduct a breakout session at the AARC (American Association of Retirement Communities) in Las Vegas.

Penny Leisch
www.petsbypenny.com
Her feature article, "10 Tips for Winning Horse Photos", appeared in Equine Wellness Magazine and she participated on the editorial team for Story Circle Network cookbook project. Those Doggone Dogs was published in the June SCN journal and Penny was interviewed by DogCast Radio about Reiki for dogs. See her new blog, petsbypenny.blogspot.com/ and her new www.reiki4paws.com/boutique/.

Ginnie Mesibov
www.outerstrengthinnerstrength.com
Author of the inspirational book Outer Strength, Inner Strength: Weekly Messages for Today's Woman, led a workshop on self-publishing at the Greater Philadelphia Christian Writers Conference in August. She also conducted a workshop at the Philadelphia Writers Meetup. Visit Ginnie's website, www.outerstrengthinnerstrength.com , and discover the unusual but powerful strengths with which woman has been created.

Jane Carroll
www.berthasize.com/
Listen in on Tuesdays at 8:00 pm EST at www.lovingliferadioshow.com

October 16, 2007 Gina Mollicone-Long--The Secret of Successful Failing
October 23, 2007 Gillian Hood-Gabrielson--Intuitive Eating
October 30, 2007 Teresa Morrow--Promoting Yourself Online

Susan Reinhardt and DC Stanfa www.susanreinhardt.com
www.dcstanfa.com
Susan Reinhardt (Not Tonight Honey, Wait 'Til I'm a Size Six and Don't Sleep with a Bubba), and author DC Stanfa, (The Art of Table Dancing: Escapades of an Irreverent Woman), have joined farces for a humor anthology titled Sex in the Cemetery, and Other Bible Stories.

They're looking for humorous stories about relationships, and yes, sex-but it won't be a sexually explicit book. A portion of the proceeds from the book will benefit The Saint Jude's Children's Hospital. For more information, contact DC Stanfa at dcstanfa@fuse.net, (513)582-9406, or Susan Reinhardt at susan@susanreinhardt.com.

KC Christensen-Lang
www.ToolsForPositiveLiving.com
www.CoachingForTopLeaders.com
AUTUMN SPECIAL FOR BABY BOOMER WOMEN!
It's fall and as the seasons shift and the leaves change, how about we focus on YOU!? We've designed a new life-changing-business building-take you-to-a-whole new level-Dynamic Duo Package just for you. Get ready to TURN OVER A NEW LEAF THIS FALL! Read all the exciting details HERE!

Anne-Marie Aigner
www.theboomerbroads.com
Janet Prensky & Anne-Marie Aigner, two "Boomer Broads with Attitude", do some more talking, laughing, and, sure, some whining about life, love, family and-- how to look better than ever! Join us this Thursday, 6 PM Eastern, 3 PM Pacific live by logging onto www.voice.VoiceAmerica.com or listen anytime on www.theboomerbroads.com -- and, yes, boomer MEN are welcome too. But, be sure to bring plenty of attitude! Email the Broads anytime at janet@theboomerbroads.com or annemarie@theboomerbroads.com.

Pamela D. Blair
www.pamblair.com
I am proud to announce that my book, The Next Fifty Years: A Guide for Women at Midlife and Beyond, is among the top 100 spiritual books in the self-help category on Amazon.com.
---

THANK YOU! to the following for sharing information about NABBW and BWS:

Casey Dawes
wisewomanshining.com/
For interviewing Dotsie. To read the entire interview, go here!

Nellie Moore
www.wysewomen.com
For quoting us throughout her site.

E. Lucas-Taylor
elucas-taylor.blogspot.com/
For including our writing contest on her blog.

Nancy Mills
www.thespiritedwoman.com
For mentioning the NABBW in her newsletter.

Phyllis Goldberg, Ph.D. and Rosemary Lichtman, Ph.D.,
www.NourishingRelationships.blogspot.com
For including our writing contest on their blog.

NOWwhatJOBS,
www.nowwhatjobs.net
For adding NABBW and BWS links on their Web site.

Jennifer Kalita
The Kalita Group,
For including the NABBW in her newsletter.

Monica B. Morris
www.monicabmorris.com.
Thanks for announcing your teleseminar with NABBW to your audience of readers.

Laraine
www.sunnycorners.com/
For blogging about the Boomer Women Speak Forums.

Jane Carroll
Bertha's Blog
For mentioning the Boomer Women Speak Forums in her blog.


---
RECENT READS

Reading is one of my favorite pastimes. I enjoy sharing my reads with others. Here's what I read last month. Please email me if you can recommend any great books.


Going Grey: What I Learned about Beauty, Sex, Work, Motherhood, Authenticity, and Everything Else That Really Matters
Anne Kreamer
Buy this Book







---
---

For NABBW members, you can get the latest FREE issue of BeE Magazine using the promo link found at the Members Only section at the NABBW.

---
Want to send flowers to a friend, or popcorn to a family or business? NABBW is now offering member discounts at www.1800flowers.com and www.thepopcornfactory.com


---
PASS IT ON: We all know her. She's at midlife. She wants to take care of herself but can't always squeeze it in because she's so busy caring for any of the following: her husband, mother, father, children, grandchildren, in-laws, neighbors, friends, colleagues, etc. Won't you please help her out by sharing this newsletter and the NABBW with her?

Thank you for connecting, encouraging and supporting boomer women. May we all be enlightened, educated and empowered!


---

TAKE TIME TO VISIT OUR SISTER SITE
www.boomerwomenspeak.com is the # 1 site on search engines for "baby boomer women." Join us in our forums where you can share from the heart, give and receive advice, and make new friends.

Please email dots@nabbw.com if you no longer want to receive this publication.
Click Below to View other Newsletters
9/01/2007 August Boomer Women's World
8/01/2007 August Boomer Women's World
7/01/2007 July Boomer Women's World
6/01/2007 June Boomer Women's World
5/01/2007 May Boomer Women's World
4/01/2007 April Boomer Women's World
3/01/2007 March Boomer Women's World
2/01/2007 February Boomer Women's World
1/01/2007 January Boomer Women's World
12/01/2006 December Boomer Women's World
11/01/2006 November Boomer Women's World
10/01/2006 October Boomer Women's World
09/01/2006 September Boomer Women's World
08/01/2006 August Boomer Women's World
07/01/2006 July Boomer Women's World
06/01/2006 June Boomer Women's World


Contact Information

~~~~~~~~~~~~~~~~~~~~~~~~~~~~~~~~~~~~~~~~~~

phone: 1-877-BBOOMER

~~~~~~~~~~~~~~~~~~~~~~~~~~~~~~~~~~~~~~~~~~
---